Products
PreTurn uses load carriers of plastic in the sizes 800 x 600 mm and 1.200 x 800 mm, thus delivering two innovative logistic solutions for trade and industry.
The "Pallet 4.0" for European logistics
The Neckarsulm Europallet is very new to our portfolio. The stable construction of 100% recyclable HDPE material provides long service life and thus protects our environment. The consistent high quality guarantees a long-lasting, clean and sales-promoting image – even after frequent use.
Customized and specially developed for the needs of production operations that use a high degree of automation technology. The load carriers are optimally suitable for use throughout the entire supply chain.
Two passive RFID transponders in each pallet enable localizing the pallet pool and thus an efficient and transparent control.
The Heilbronn half-pallet
Compared to wooden pallets, the Heilbronn half-pallet has a higher breakage resistance.

Statistical analyses prove that the higher stability leads to significantly more tours per pallet.

Technical data
| | |
| --- | --- |
| Dimensions | 800 x 600 x 160 mm |
| Weight | 6.75 kg |
| Material | Thermoplastic polymer / food conform |
| Certification | ISO 8611 / DIN 15159 |
| Colour | RAL 8014 "brown" / 7024 "gray" |
| Loads | Static up to 2,000 kg / Dynamic up to 500 kg |
| Temperature resistance | -30°C up to +40°C, short term up to +90°C |
| UHF-RFID-transponder (along the right long side) | Frequency 860-960 MHz |
| Identification number | GS1-Standard GRAI 96 |
| Suitable for high-bay storage and automated systems | |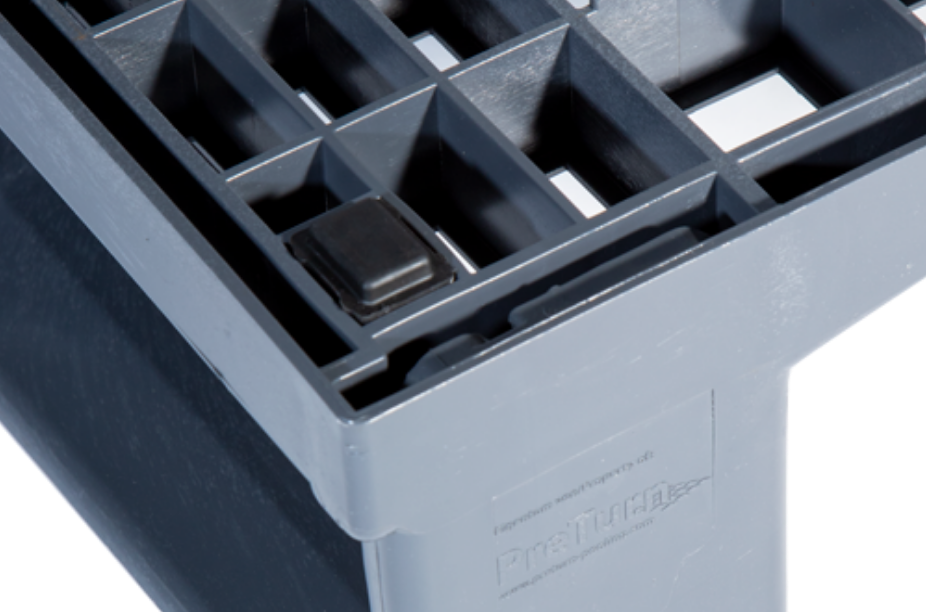 The Neckarsulm Europallet
The dimensions and requirements, such as entry height, closed runners, block widths and deck heights, are in conformity with the standardized europallet. Previous plastic pallets on the market often have small deviations. This means that the conveyor technology has to be adapted.

The Neckarsulm Europallet is a 1:1 solution without any necessary changes to the conveyor system. We orientate ourselves on the standards and norms of pallet jacks.

Technical data
| | |
| --- | --- |
| Dimensions | 1.200 x 800 x 150 mm |
| Weight | 20,00 kg |
| Material | Thermoplastic polymer / food conform |
| Certification | ISO 8611 |
| Colour | RAL 7024 "grey" |
| Loads | Static up to 6.000 kg / Dynamic up to 1.500 kg / High rack up to 1.250 kg |
| Sliding friction coefficient | > 0,4 according VDI 2700 – Blatt 14 |
| Temperature resistance | -30°C up to +40°C, short term up to +90°C |
| UHF-RFID-transponder (along the right long side) | Frequency 860-960 MHz |
| Identification number | GS1-Standard GRAI 96 |
| Suitable for high-bay storage and automated systems | |
Advantages when using the load carrier
General
Protects value of goods
Increases transparency and traceability for goods across the entire supply chain (through RFID equipment)
Saves money on load carriers
Saves transport costs (lighter pallets, lower defect ratio per truck)
Production
Reduction of downtime and production losses with a high-quality pallet
Greater work safety for stored pallets
Minimal wear and dirt in the conveyance equipment
Reduction of needed cleaning (no wood + less damaged goods in the warehouse area)
Reduction of goods return transport when incoming goods are rejected (because of defective pallets)
Handling
Higher work safety and better ergonomics for employees (lighter, more easily stacked, no wood splinters)

Less time sorting when empty pallets are delivered

No pallet repair
Less space needed (fewer defective pallets and fewer pallets stored)
Reduction of administrative time and empty tours thanks to pooling system
Accelerated logistic processing